Since its introduction in FM2014, the Wide Target Man role always fascinated and brought out the tactical tinkerer in me. Sometimes I get an idea that takes over whichever save I'm doing, as I try hard to make it work. Most of the time it leads to a lot of wasted time playing around with the tactics screen. Even worse is the disappointment of watching game after game and seeing none of the hoped for results. My particular weakness has always been the exotic roles in football manager games. I created my share of Raumdeuter, Libero and Enganche tactics. The Wide Target Man is no exception. My previous exotic experiments led to inconsistent results at best. Judging from current Football Manager match engine I predict that the Wide Target Man is at its best since 2014. Given the right player, it could be just what you need for a great Route One tactic. A tactical system to directly counter the high pressing and possession-heavy trend in football today.
Due its association with "hoofball" and "anti-football", long ball Route One football is out of favour. It might not be what most managers look for when designing a tactic for a top tier team. Some argue that very direct football lacks the graceful beauty of tiki-taka passing or the attacking efficiency of gegenpressing. Others dismiss it completely as the obsession of tactical dinosaurs and hopeless underdogs like Toni Pulis. Route One critics will ultimately bring forth the examples of the top teams like Liverpool, Man City, and Barcelona. The assumption being that patient build up from the back and high pressing are the only routes to victory. Which leaves the hopeless tactical dreamers among us wondering. What if Route One "hoofball" did not have to be inherently defensive, especially if used by a confident attacking team?
I want to show that a very direct tactic can be very effective. Especially when utilised by a capable team with the right players to fit the roles. It can help to nullify the advantage of overwhelming possession or gegenpressing. More importantly it can aid in winning games in the most efficient way possible. Building my custom Route One tactic starts with having two key ingredients. First, the ideal player for the Wide Target Man role. And secondly, a capable distributor to provide long passes from the back.
---
Introducing the Wide Target Man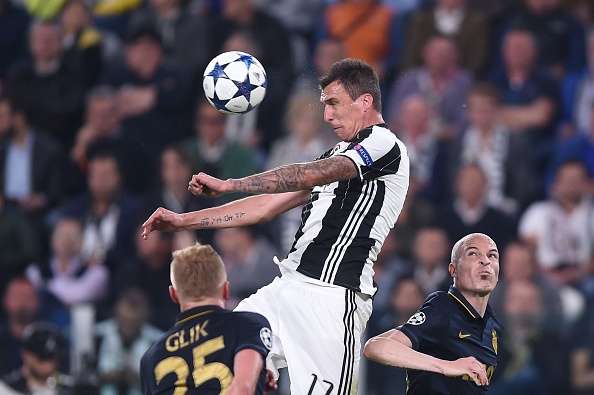 Lets start with the first key piece in my tactical puzzle. I have analyzed how various players play in this role. I did it across several saves and clubs in FM19. Clubs like Dynamo Kiev, AS Roma, Celta de Vigo and Manchester United. I chose these teams because they already possessed a suitable player to fill this complex role.
Much like other exotic role in fm, I'm starting to realise that the wide targetman needs a very specific attributes. As a result of what he has to do, this player needs to be incredibly well rounded. Not every footballer has the physical strength to receive a cross and hold up the ball. And then have the mental capacity and technical acumen to effectively direct it to an onrushing teammate. Sometimes he needs to decide when it is simply better to just power through to the goal himself.
Romelu Lukaku is a beast of a Target Man. He showed at World Cup this summer, that he can be very deadly playing on the right wing. Brazil's fullbacks could neither stop his charges up the right touchline, nor his crosses to Hazard and De Bruyne. The Belgian's performance is reflected in his attributes in the FM19. As it is Lukaku is very close to an ideal Wide Target Man. So what are the attributes to look out for?
Jumping Reach (and of course the player's natural height). This one is obvious. Whether up top or on the flank, target man will be the target of very long passes or floated crosses. The taller he is, and the higher he can jump, the easier it will be to intercept these passes.
Heading, Balance, and Strength are equally important. They will help him to assert himself in the wide areas against smaller fullbacks. Decent amount of Acceleration and Pace will also help the player to move quicker into central areas. Having high values there is a bonus but not key to the role. Physically he is not all that different from a traditional Physical "Big Man" stereotype of the central Target Man. What makes a Wide Target Man (WTM) stand out is the plethora of technical and mental attributes. They are as important, if not more, as the physicals.
Passing, Crossing and First Touch are all very useful for the role because WTM is much further away from his Striker partner than in the traditional Big and Small Men partnership. First touch will help him control the long ball quickly and effectively. Actually Having high value here will give any player with the ball the immediate advantage, as he will be able to cross quickly to his central striker partner or to flick the ball on to the onrushing midfielder or fullback.
Mentally, above all else WTM needs great Teamwork and Workrate, to act less selfishly and embrace his role as the forward most pivot for the whole team. For the tactic to work the players around him need to be moving into open spaces while the WTM quickly assesses the situation and directs the attack. For this he needs adequate Anticipation, Decisions and Vision. Off The Ball is also very important, if not the most important attribute, as it allows the player to get into dangerous open spaces at the start of the play. This way he can receive the pass or floated cross easily as well foresee where he needs to be in order to knock down the ball for the teammate who is arriving late in the area.
---
I would be surprised if the idea of the WTM role did not come from watching the Norwegian national team of mid to late 90's under the legendary coach Egil "Drillo" Olsen, whose revolutionary use of the very offensive hoofball style was immortalised in the famous Flo Pass tactic that puzzled teams like Brazil for a good part of the 90's.
Essentially, it boiled down to having a more than competent play maker in the fullback position, being able to direct long cross-field passes towards the very physical Target Man playing uncharacteristically as the attacking right winger. For this Egil Olsen used a dynamic duo of the smart hardworking left back Stig Inge Bjørnebye and the mountain of a man Jostein Flo who easily bullied opposing rightbacks and wingers. When Jostein was not able to power the ball into the net himself then the knock downs and flick-on's that inevitably resulted allowed his striker partner or the central midfielders to get into very dangerous positions, as Brazil found out to their dismay in 1998 World Cup.
This historic video show just how beautiful Flo Pass football was at its heyday. The Brazilian defence has no time to react as the Norwegian offence surges forward. The beauty of recreating this in FM19 is in seeing how fast you can get the ball up the field. The fewer touches the better. A sort of Vertical anti-Tiki Taka which actually does not mean anti-football but rather the most efficient style of football. No time wasted on sideways and backward passes, as the whole team moves the ball forward with single-minded purpose. This style of football is hard to pull off as it requires mentally strong players with high off the ball and acceleration ready to arrive late in the penalty area and pounce on any knock downs from the WTM. So looking for players with high anticipation, teamwork and workrate is not only necessary for the Wide Target Man on your team but also the other attacking players whom he brings into play since they need to be able to coordinate attacks very well together. For this reason it might take a while before the tactic will start to mesh, but when it does you will start seeing some beautifully coordinated One Route plays like this.
The United Experience
This is a typical play that I've been seeing quite regularly after 2 months of familiarising my players with the tactic. The attack takes the total of 4 passes from my sideline into the net. It starts with the direct free kick towards Herrera who is in the box to box midfielder role because I want to take advantage of his work rate and excellent playmaking skills without necessarily making him into a ball magnet. For this to work it is essential that the player you put here, not only has the required technical and mental ability but also correct Player Proffered Moves (PPMs such as Likes to switch ball to the other side, and Tries Long Passes and Killer Balls are all great). Incidentally Herrera does not have any of those PPM's, but is a great technical passer, and the move succeeds as he seeks out Pogba right away with a long ball. Using a Target Man role will naturally tell other players to seek them out with long passes. For this to succeed it is important not to have any other ball-magnets, that is playmakers, before or in front of the WTM. He needs to be the soul attacking focus. While in other tactical systems such one-dimensional approach might be unwanted, especially when the team does not possess great passing talent, here it leads to goal. In turn Pogba (acting as my WTM due to injury to Lukaku) immediately flicks the ball to the onrushing Martial who hammers it into the net from pointblank range.
The difference with top club such as Manchester United is that Flo Pass turns from a high-risk, low-success counterattacking strategy (such as used by Pulis' era Stoke or West Brom Albion) into consistently attacking threat. Just as Drillo ideally envisioned it. The risk diminishes when the keeper, defenders and midfielder distributors are trained at making long passes towards tall physical players who are mentally and technically able to control these long balls. Even when the long pass fails, the team is still more than capable to use high pressing and shear momentum to win the ball back from the opponent who is disorganised, after being put on the back foot with a bold pass over its midfield and defence. They are simply not ready to deal with coordinated attackers moving into spaces liberated by our Wide Target Man. In action, it is football Blitzkrieg.
Above is another example of Pogba setting up a perfect cross after controlling a long ball from the fullback, which completely bypassed Crystal Palace's defence. All that is left is for our Attacking Winger Fred to tap it into the next. Finally, this last video is from Champions League demolition of Inter Milan.
The proudest moment in the season so far, there were many positives to take away from this match. Firstly, it was rematch to a previous meeting with The Nerazzurri where we lost 4-1. At that time early in the season the tactic was far from fluid and the players were still learning how to work together. The score of 6-1, with both Pogba and Sanchez getting hat tricks, showcased just how deadly the Flo Pass Tactic can be once the players are fully familiar with the tactic, even against top teams like Inter. Also somewhat of a revelation has been playing Sanchez as a mezzala this season. Sanchez is much deadlier when allowed to range forward from deep and exploit the half-space to the right of my WTM. In this, his excellent off the ball, allows him to time his runs perfectly, picking up passes from the WTM. Pogba also showcased the offensive side of the WTM role as he bagged the goal in the video which came at the end of an elegant two pass move started by my ball-playing worderkid centreback Maresic. As you can see this the reason I tend to put my WTMs on Attack duty.
The rebirth of Flo Pass Tactic
So this is how my interpretation of Flo Pass tactic looks. All the team instructions and roles can be seen above in case you are curious recreate this style of Route One football in your safe. When defending a lead or against a particularly strong opponent I usually drop the two wingbacks into the fullback positions and switch to cautious mentality. Also do not pay any attention to all the red in the tactic. The game likes to insist that some players like Pogba or Sanchez (as Mezzala) are not suitable for those roles. I let their attributes and performance be the judge of that. I find Pogba is a great substitute Wide Target Man, when Lukaku is unavailable. He has all the key attributes for the role and a little green circle on tactics screen s matter.
In the game, there are several other outstanding players that can be molded into the ideal WTM. Players such as Mario Manzdukic, Diego Costa, Edin Dzeko and Maxi Gomez. How will you unlock their full potential? Drop comments below and on our social media to let us know how Wide Target Men worked in your saves.
---
---
Other articles you might enjoy: