It is that time in the cycle where people are wanting the next edition of Football Manager, but we all have to wait. In this article I discuss five teams to manage FM20, and more specifically with an updated database. I have tried to mix it up so that the teams aren't always the most obvious ones. We all know that this is the perfect time to start a new save, just to keep things fresh and with pr0 Transfers & Data pack your opportunities are endless. I wanted these clubs to be English, just to be specific. This way it gives you great opportunity to challenge yourself.
Firstly, I would like to start by saying this years Football Manager has been immensely challenging and during this global pandemic has given a lot of people a really important element of escapism. It has allowed a lot of players to really dive in to a save, and escape from what has been a really difficult year for most, if not all of us.
---
Let's get in to it!
Wigan Athletic

This probably comes as no surprise whatsoever to you, it definitely doesn't to me either. It would be hard not to include Wigan, but after seeing their mascot it was a no-brainer. Unfortunately their performances on and off the field weren't enough to keep them in the Championship, they now see themselves heading to League One to join the likes of Sunderland and Plymouth Argyle. 
What makes this save idea stand out, and why I have included them in the five teams to manage in FM20 is that a lot of the teams in League One in this up and coming season are teams that you'd naturally expect to be in the Championship. It is making the league that much more competitive, and players who will be signed will only increase the leagues stature. Not only that, Wigan have a very tough task with a limited budget to try and progress on and off the field.
With the likes of Antonee Robinson who is expected to leave the club in the coming days, how will you attract players of his calibre to the League One side? Not only that, you will have a tough time affording bigger players on higher wages, due to the increasing pressure of financial stability.
I hope that hasn't put you off too much, but Wigan are a club that with the right leader can go on and regain their stature. 
---
Chelsea
Their transfer ban is over, and now it's time to mould this young team in to a team that are capable of competing for the title. With recent additions Werner and Ziyech added to the team in the update, there isn't too much that needs to be addressed before the team is perfect for competing.
With an already large squad, there are a lot of fringe players that can be sold and funds can be raised to improve other areas of the team. On paper they have a very exciting team, and with just a few new faces, the right tactics and commitment, they can challenge. 
Having been under a transfer ban, it's meant the club has had to focus on the next generation and that is clearly showing with the progress a lot of them are making. The likes of Billy Gilmour, Ampadu, Mason Mount and Hudson-Odoi will definitely be where a lot of eyes will be drawn to. Using these players, and creating a platform for playing time can be the perfect balance, instead of over spending for similar players.Can you do better than Lampard?
---
Leeds United
I had to include Leeds United in to this. There are other reasons why I have included them, but being promoted to the Premier League is nothing short of amazing. The club seem to have the right balance of players, coaching ability and transfers and it's all working out.
The biggest challenge will be to keep them in the Premier League. It is often the case, staying up after a promotion is extremely hard, but even harder with the gap in quality (and money!) between the Premier League and the Championship.
With the re-signing of Jack Harrison (loan) and Helder Costa joining, it really is a sign of intent for Bielsa and his team. The club look set on expanding their player base and improving across the pitch. This will be the first time in 16 years that Leeds will be in the Premier League, it will be up to you to keep them there.
With money coming in from promotion, you will have funds to try and negotiate players to your club. The biggest problem is your reputation, and it may be hard to get players in. Free agents could be a really good option to get the right players.That is why I included Leeds in to this five teams to manage in FM20 article.
---
Coventry City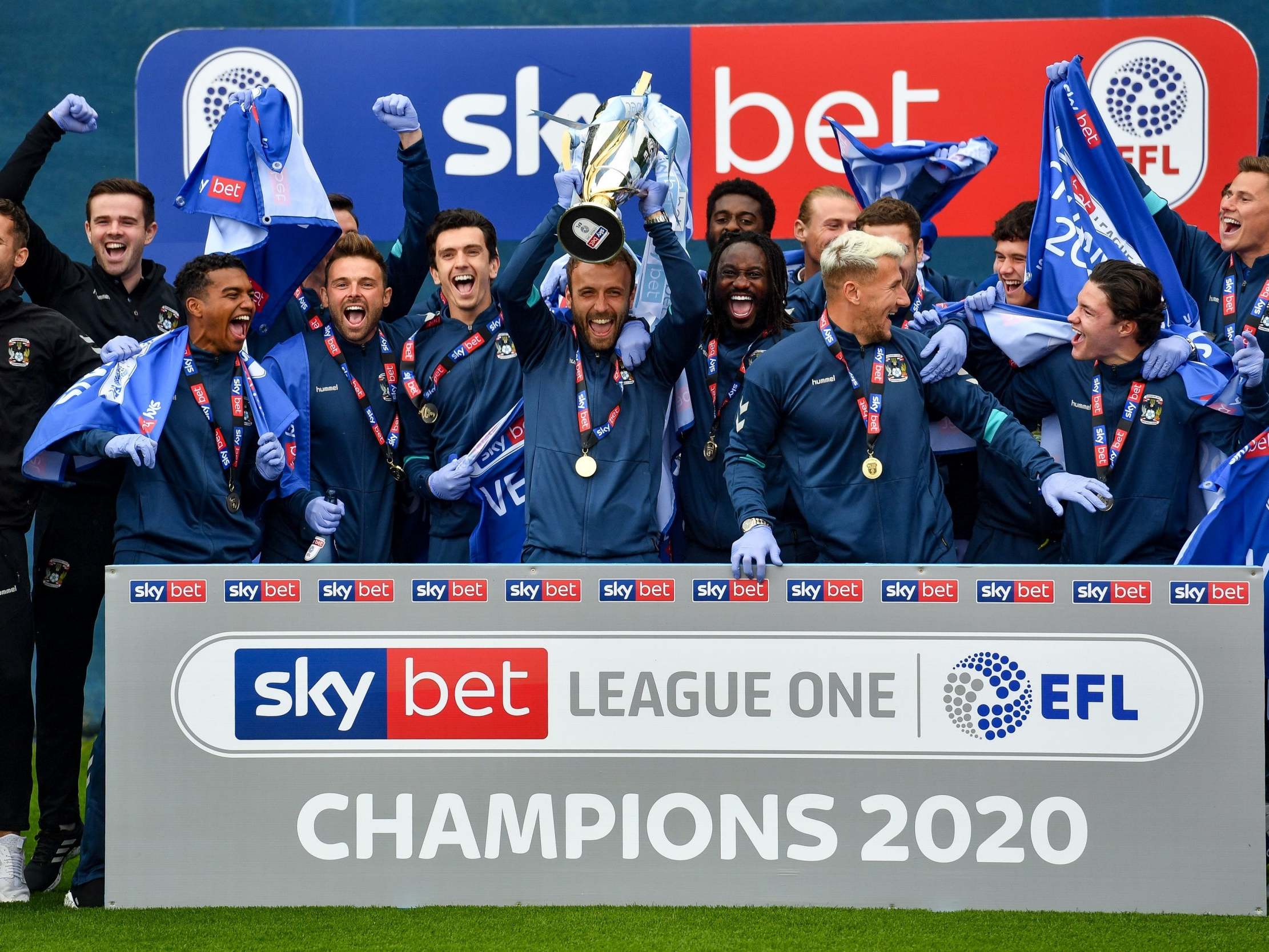 Coventry are a team that took me with some surprise after researching for this article. A team that were in the Premier League less than twenty years ago. Having seen relegation down to League Two, I believe that Coventry are back on the rise, with the ambition to return to the Premier League.
The club were in League Two in the 2017/18 season, and have been promoted to the Championship in the 2019/20 season. A typical Football Manager sleeping giant, so you have some big shoes to fill. Keeping the ever so talented Jodi Jones at the club will be a big ask, but he can be the catalyst for the club.
Current manager Mark Robins has achieved a lot with his squad, winning the Checkatrade trophy on his way to leading the club to the Championship. Essentially Coventry have been defying all odds with their climb back up the football ladder. 
It will be a very big challenge, but I have to include them in my five teams to manage in FM20. The job you have, is probably the biggest out of all the clubs listed, purely because the club have done so well in such a short space of time.
---
King's Lynn 
You didn't think I would just select all the well known teams? Yeah, I was unsure about this one, but it offers a different challenge to what you'd expect. A club promoted due to COVID after being second in the league. King's Lynn were promoted due to their average points per game, and see themselves in the National League this year.
The club who are just ten years old find themselves in the highest division in their short history. This club could be a fantastic building block, and a club in which you can take for the duration of the FM20 cycle. 
Working on a shoe string budget, and fair expectations from the board, you are tasked to just survive. But, we all know how Football Manager works, everyone wants to thrive. This club could be perfect for that.
Building on and off the field could be the key to success, and really kick off your illustrious career. It could be the right club to test the waters before FM21.
---
Summary
That is your fill, five different clubs to manage on FM20. I tried to mix things up, and choose clubs that might not get as much attention, so hopefully that can be understood when choosing. I wanted to try clubs that were varied. Hopefully you decide on a club and look at ways you can make things progress, and get the last bit of life of FM20 out of your system before FM21 arrives.
There's a lot of fun to be had with these clubs, and I already can't wait until next season begins and we can watch these teams in action. 
Tweet us @DictateTheGame if you have managed any of the above, or plan to!
How to download the database
You can download the database here: https://fmpr0.com/
Instructions on getting the database to work can be found here: https://fmpr0.com/instructions.php
The instructions include a video, so be sure to check that out if you are stuck.
---
I hope you enjoyed this brief article on five teams to manage in FM20 and that you can find a club suitable for you. As always you can follow us on Twitter or like us on Facebook.
Here are some other articles that you may enjoy, from the team: