I was torn between two formations for my gegenpressing tactic: 4-2-3-1 DM wide or 4-5-1. In the end I chose 4-2-3-1. The 4-5-1 became my backup tactic againt superior sides in Champions League. Why not use Lobanovsky's classic 4-4-2, you may ask? I've used 4-4-2 extensively in both FM 2017 and FM 2018. But while I always had some success with it, I noticed that Number 10s never played as I wanted. Or link up the midfield and attack as well as attacking midfield would. Deciding to use defensive midfielders convinced me that I needed an attacking midfielder to link defence with attack. I intend to play a hard-working striker there. One who will not just pass the ball but will also score goals. And why not try playing a hard-working midfielder in the pressing forward role?
The advantage of 4-2-3-1 is in having two players in the advanced wing positions. They can start closer to the opposition and to be able to press higher up. At the same time the inside forward roles will allow them to help out the striker and the attacking midfielder. Also for the purpose of counterpress, having four rows of players will allow them to absorb pressure more comfortably. It is better to use multiple layers to stifle the opposition attack and then to launch counterattacks. Attack unfolds in a much more direct intuitive fashion. We use possession with intent, and limit the amount of sideways passes. Instead, the players pass vertically up to teammates in advanced positions.
There are two key things that I need for my tactic to be effective. I will be choosing team instructions accordingly. Firstly, whole team has to act as one cohesive tight unit in defence. It needs to stop the opponent's attack before it even gets into our half. And then it needs to win the ball back aggressively and fast. Secondly, your side needs to launch fast direct attacks to capitalize on the opponent's disorganization. Disorganization that comes in the wake of losing the ball. While our side will remain a compact, disciplined unit. Finally, the whole team has to run their socks off for 90 minutes, outlasting the opponent in fitness. The more tired the opponent gets while trying to keep up, the more mistakes they will make.
Key Team Instructions
When out of possession, the team has to aggressively press the opposition high up the field. Winning the ball back by tackling, never diving. I want my players to quickly transition into attack when the ball is won back. While doing this, I want my guys to remain disciplined and stay as close together as possible. This should outnumber the opponent, intimidate them. and cause them to make mistakes. The instructions needed to achieve this are:
Much higher lines of engagement and defence– to give opponent as little time on the ball as possible
Narrow Defensive Width – to maintain our compact shape as much as possible
Much More Urgent Pressing Intensity – again not to let opponent keep the ball for too long
Tighter Marking – to limit space for opponent to act
Prevent Short GK Distribution – to put pressure and force mistakes from GK
Staying on Feet – everybody needs to attack and defend as a unit. We cannot have players going to ground in diving tackles and then having less bodies contributing in transition
When in transition, I want my guys to counter immediately after a successful counterpress. The ball needs to move as fast as possible from defence without having the defenders or the keeper hoofing it up the field. Thus I turn on "counterpress" and "counter". I instruct my Keeper to kick it short to the centrebacks. The centrebacks I instruct to play out of defence with short passes
While in possession, I want my guys to stay very close. This is to maintain that cohesive attacking unit in the middle. The only players providing width, should be the two marauding wingbacks. They will bomb up and down the field and stretching opponent's defences to their limits. To help with the central compactness, I have the following instructions: Narrow Attacking Width, Shorter Passing and More Disciplined. The more disciplined shout is there to keep a more structured defensive shape. This way less players will get out of position while they close down the opposition. This might seem like an oxymoron, but I want them to press as much as possible, in an intelligent manner. I do not need 10 headless chickens on steroids running around the field.
At the same time I want the team to move the ball up the field quickly and decisively. To this effect I employ Pass into Space, Much Higher Tempo and Drilled Crosses. I use Overlaps on wings to encourage my inside forwards to cut into the middle to help with the pressing. At the same time wingbacks should be able to keep up better with attack. It will hopefully allow for crosses towards my Pressing Forward (with high jumping, heading and off the ball to take advantage).
First Results
It's been a turbulent first trimester with Dynamo Kiev, with its share of highs and lows. Through all this time, we only had one loss domestically. It came as a surprise, since it was not from Shakhtar but from the less known Zorya. So far I'm 3rd in the league All despite winning 7 game, drawing 1 and losing 1. The draw was from Shakhtar.
What is surprising though, is that the Ukrainian League is quiet competitive and not as easy as I expected. Facing 2 other strong title competitors is not quite the two horse race between me and the Donetsk "Miners" I expected. Zorya looks to have had a very strong start which only seems to be getting better. I hoped that after losing its young star goalkeeper Lunin to Real Madrid would make it less competitive. Yet, Zorya's mostly Ukrainian squad has been performing admirably. A testament to the fact that investing in homegrown talent pays off. I'll have to prepare much better for my future games against them.
I'm proud to say that three of my stars of the season so far are homegrown Ukrainians. Besedin, Buyalskyi and Tsygankov have combined for over 25 goals so far. This deadly trio of Pressing Forward, Inside Forward and Advanced Midfielder has also been working hard on the field; running their socks off, tackling and intercepting the ball. As you can see in the following screenshot, the amount ground they covered has been phenomenal. This record can only be rivaled by the double pivot of Garmash and Sydorchuk. The wingbacks worked hard as well, as expected by the demands of my tactic. As you can see in some of the stats below, gegenpressing is working as it should. We are not only getting good results, but are getting them due to our hard work as a team.
As the above images shows, our squad is excelling in the distance covered per game, with majority contributing more than 12 km per game. Other key statistics, which I added to my custom "gegenpress" view are the amount of interceptions and tackles won by my defensive and offensive units. As expected, my midfielders and wingbacks have put in the best team performances which really allowed the forwards to thrive. On the right you can see the attributes that I look for in my squad.
Pressing Forward: Key to my system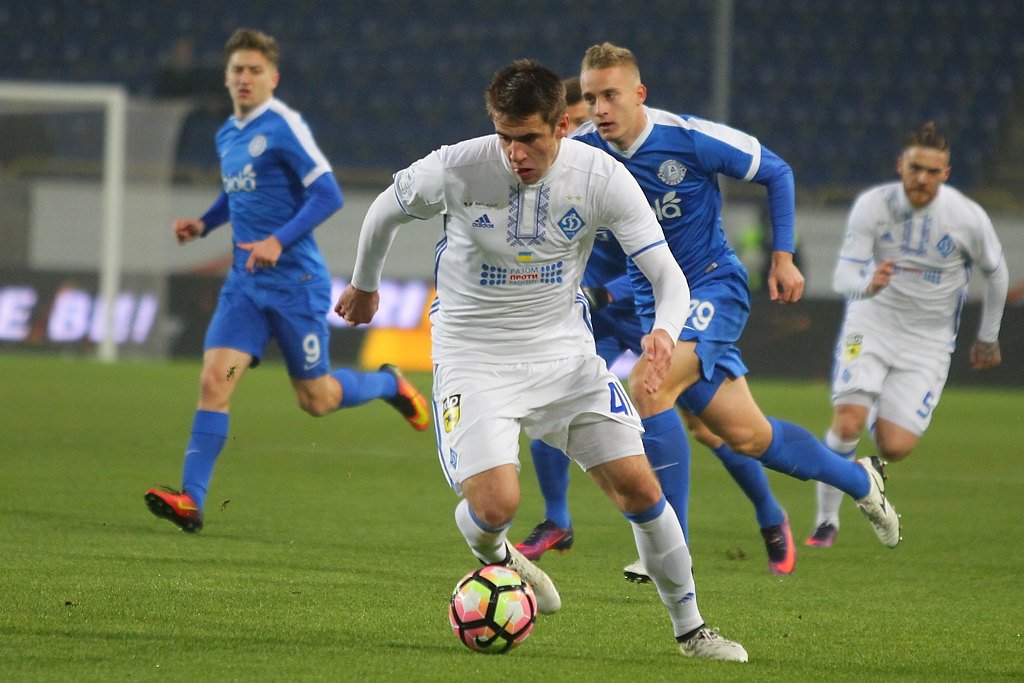 A lot of the hard work that led to our early successes, was because of the contribution of our pressing forward, Artem Besedin. My favourite player on this team by far. As the role's description says, the pressing forward has become very important in the modern game. More teams are trying to emulate the counterpressing systems that brought success to teams like Dortmund, Liverpool, Athletico Madrid, RB Leipzig and Leicester. Throughout the season Artem has been the ideal pressing forward. Similarly to how Roberto Firmino works under Jurgen Klopp, Vardy at Leicester, Timo Werner in RB Leipzig or even Diego Costa at Atletico Madrid, he is hard-working striker who wins the ball back in dangerous areas, spearheading counterattacks Like these more celebrated players he works very hard not only to score goals himself but also to win tackles and interceptions in the midfield and assist his teammates on goals.
I mean just to give you an idea how complete a player he is, I will break the fifth wall and fast forward into the future, to show you what he looks like in April. If you look closer at his stats, you can see 25 goals overall, 9 assists and 85% tackles completion rate. So what does he do to actually achieve these statistics?
When Pressing Forward role was first introduced in FM 2019, many people thought it was just a renaming of the defensive forward role. And it is true, the role does act like defensive forward, who is tasked with putting pressure on the opponent's defensive line, chasing down the man in possession, and any loose balls, and in general preventing the opposition defence from having any time on the ball. This is all true when you put him on support or defend. Where pressing forward shines and becomes a truly dynamic role is when he is on Attack duty. When set on Attack, he will not only press the backline and try to bring his teammates into play, but will try to score themselves while in possession. In other words, he turns into a super aggressive Complete Forward-type of player.
Due to his exceptional work rate and stamina, the pressing forward will often drop deep into the midfield and help the transition game, even more so than a deep-lying forward or false nine would. From there he will use his acceleration (a key attribute for the role) to get up the field into dangerous positions. Once the ball is won or he wins it himself (as Besedin often does). Here his good off the ball and acceleration help a lot. Even if he does not have the best technical attributes, he is often able to power his way towards goal through his shear physicality and mental strength. Artem has only average finishing (13), technique (12), first touch (10) and long shots (11). But his off the ball and acceleration are both 15. And workrate of 20 is what make him into one of the best Power Forwards under 23 years.
You can see from the heat map of a match where Besedin had one of his best performances, scoring a hat trick, he ironically spend more time in the midfield than near opponents penalty box. His three goals were not long shots from 20 yards out. All three were from the box, real fox in the box efforts. In fact, this is true of the majority of his goals this season. They were the result of getting on the end of through balls, or whipped low crosses from the overlapping wing-back. Having a high strength and balance (both 15 in Artem's case) also helps him to power through the more persistent defences where a more typical poacher probably would not be able to find the space needed to score. I can count the number of times where he ran through 2 or 3 defenders before scoring that key goal.
Essentially, what makes an Attacking Pressing Forward, is having a player with the right combination of mental attributes (work rate, bravery, off the ball, determination, aggression, anticipation and teamwork) who is also fast and strong. He can essentially act like a dynamic hybrid of a hard-working poacher and false nine. A player who is just as comfortable creating scoring situations, forcing errors from stalwart "parked bus" defences and aiding his teammates in winning possession back just as he is finding open space to run onto the end of through pass. You cannot ask for a more complete forward in a total gfootball-type of system.
Finally, the beauty of a pressing forward is that if you do not already have a suitable striker, you can often retrain a midfielder or even a fullback. As long as they have the right attributes. Its far more important to find mentally determined, aggressive, hard working players with exceptional athleticism, rather than the technical finishers. Yussuf Poulsen at RB Leipzig, undeniably one of the best pressing forwards in the game, only possesses a measly 10 in finishing. His teammate Timo Werner, is only slightly better with 13. Three players who from the start can be turned into very good pressing forwards are Sergej Milinkovic-Savic (midfielder), Cardiff's Callum Paterson (fullback), and Benfica's wonderkid Gedson Fernandes. Even Dortmund's Jacob Larsen has the potential to be great in this role. I see him as the next Kevin Volland. I would love to hear from you. Who have you succeeded in retraining?
Testing the System: First Results
Here are some of the highlights of the season so far. Domestically, we had some big results in the month of August, such as the 4-1 hammering of Chornomorets and 3-0 win over our city rivals, Arsenal Kiev. But our brightest moment has got to be the 5-1 demolishing of Shakhtar in Super Cup in our very first competitive game of the season. It's also our first trophy. I'm rather proud of this one as not only did we beat our league rival but we did it in a very convincing fashion. Historically this was Dynamo's 2th biggest victory over its rival since 1938 start of the Classico Derby (Klasychne Derby) between them. Dynamo has only beat Shakhtar by 4 goals on one other occasion on May 25th 1952 with a score of 6-2.
That followed week later by 4-1 win over the Belgian giants, Standard Liege in the Champions League Qualifier. Unfortunately, our Champions League success came to an abrupt end at the end of August when we could not get past Benfica, losing on aggregate by one goal. The initial 0-2 loss at home was costly and bittersweet, since beating them 3-2 in Lisbon proved not enough to advance.
The Portuguese heartbreak was somewhat alleviated by the fact that we were not completely kicked out of continental competition, but instead moved over into Europa group stage where we probably have a much better chance of going deep. The first strong win (4-1) against Slavia Prague will hopefully give us enough momentum to get through Group H, which unfortunately also includes AC Milan. But before the famous Milanese we have to face the test of Feyenoord. But more on that next time.
Next: More European adventures, and getting through the lows and highs of football management
---
Other articles you may enjoy: