Welcome to the first part of my new (and first!) series of posts on Dictate the Game. The aim of this is to sift through the major leagues and take a closer look at some of the best bargains available to you when you kick off a new save.
Before I get started with the first league, which will be my favourite – Serie A, here are some of the ground rules.
The maximum spend on any one player will be £6m. This is to keep things cheap and ensure that all of the players on this list are general affordable. This figure is the amount that you should be able to purchase the player for, not their value – as many players will fetch way above their value in certain circumstances.
Three players will be named for each position. One will cost between £4m and £6m, one between £2m and £4m and one under £2m.
No workarounds. By this, I mean that there are no loan deals allowed, nor will I be including any players with instalments or add-ons to get around the budget limitations.
Goalkeepers
Juan Musso (Udinese) ~£5.5m

Musso is the top tier bargain for the goalkeeper position in Serie A. The 6ft3 Argentine has strong all round goalkeeping statistics but it is his Aerial Reach (15), Handling (14), One On Ones (14) and Reflexes (14) that stand out. At just 24-years-old, he has lots of room to develop; especially in regards to his distribution, with his Kicking (8) and Passing (7) requiring a lot of work. I managed to have a bid accepted for Musso at £5.5m, £1.5m more than he recently signed for Udinese for in-game.
Alfred Gomis (SPAL) ~£3m
SPAL's Senegalese number one is my second tier pick for Serie A goalkeepers available on the cheap. Like Musso, Gomis is 24 and therefore is at a nice midway point between youth and experience – ideal for a keeper that can grow with your club. I had a bid accepted at £3m for the keeper, with his stand-out attributes of Reflexes (15), Kicking (16) and Aerial Reach (14) more than making up for his lower than average mental attributes – Anticipation (11) and Decisions (12).
Alessandro Iacobucci (Frosinone) ~<£1m
The third tier (or cheapest option) player I have chosen is Frosinone's 27-year-old Italian goalkeeper. Serie A has a plethora of cheap goalkeepers over the age of 34-35 but I wanted to avoid these as you will likely only get a season or two out of these and I would rather select someone with a bit more longevity to them. I had a bid accepted for Iacobucci at £750k, with his all-round solid goalkeeping attributes appealing to me: Reflexes (14), One on Ones (14), Handling (13), Kicking (13) and Aerial Reach (13) excusing his rather shaky mental attributes with Composure (12), Concentration (11) and Decisions (11).
Full-Backs
Jens Stryger Larsen (Udinese) ~£5m

Another top tier bargain from Udinese, who appear to be the gift that just keep on giving. Stryger Larsen does not only boast one of the coolest names in Serie A but some great all-round technical and mental attributes. He has strong Tackling (13), Passing (13), Positioning (12) and Pace (14), and is available for around £5m. Additionally, he can play at both left-back and right-back, as well as at centre-back, making him a strong utility player at the back.
Hidde Ter Avest (Udinese) ~£3.6m
Another bargain to be found in Udine, 21-year-old right-back Ter Avest is a diamond waiting to be uncovered. At just 21-years-old, he is perhaps not an instant starter but strong mental attributes with Work Rate (15), Teamwork (14), Positioning (13) and Anticipation (14) make up for his still-developing technicals – with his Tackling (12), Passing (12) and Marking (12) still in need of improvement.
Nikola Dukic (Chievo) ~£750k
The cheap option for the full-back slot is another player competent at playing either on the left or right hand flank. Dukic is, like Ter Avest, a younger option and at just 20, he is definitely one for the future. His physical attributes give him the edge, with Acceleration (13) and Agility (13) making him a useful addition, whilst his Tackling (12) and Dribbling (13) make him a potentially useful bargain; given he receives the right training.
Centre-Backs
Cristian Zapata (Milan) ~£5m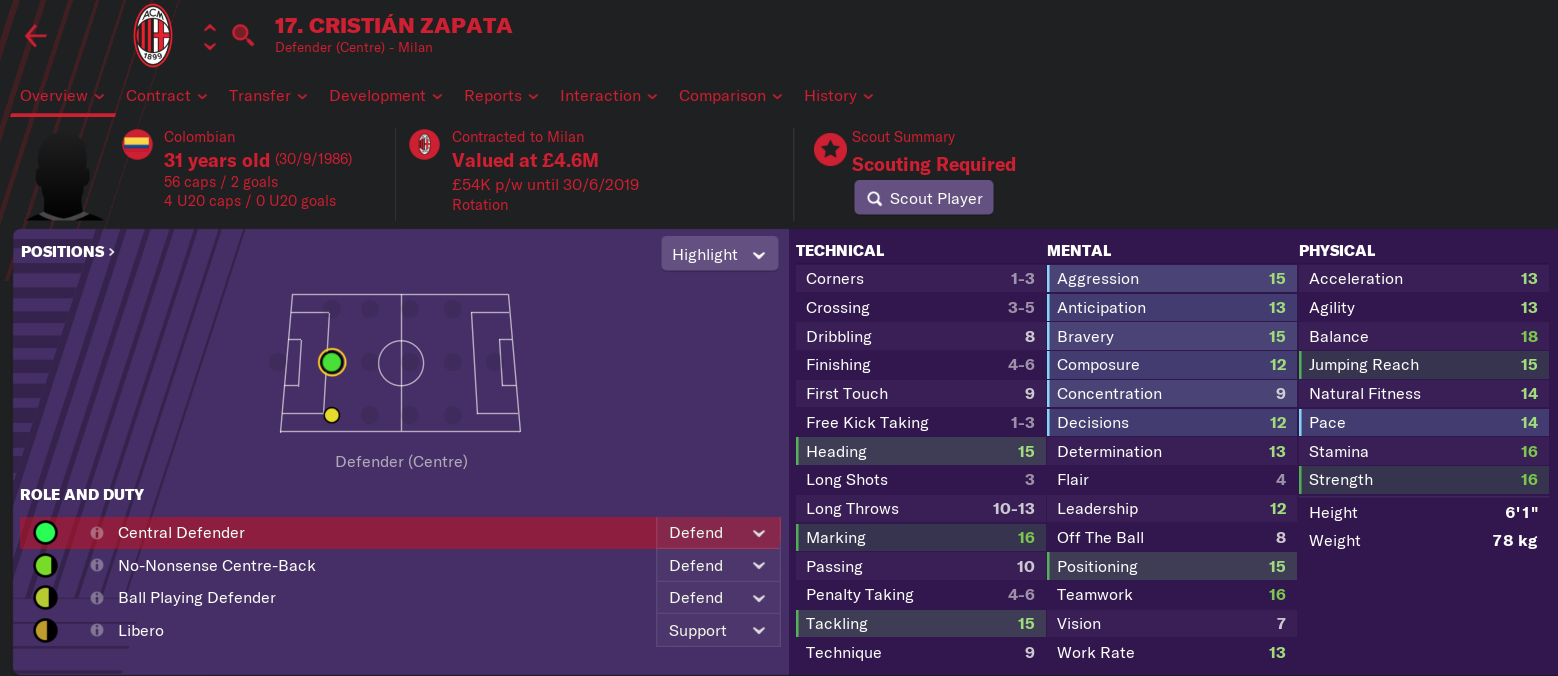 Despite being 31-years-old, Colombian centre-back Cristian Zapata is a bargain worth seeking out. He will cost around £5m but can more than make up for that in terms of experience and strong attributes. Zapata ticks all the boxes for a competent defender, with his Tackling (15), Marking (16) and Heading (15) making him a useful standard centre-back whilst his physical attributes don't let him down at his experienced age.
Filip Helander (Bologna) ~£4m
The second tier pick for the central defender role is Bologna's Swede Filip Helander. Helander has similar technical attributes to Zapata, with his Tackling and Heading identical to the Colombian but also boasts similar mentals and is not only six years younger, at 25, but also around £1m cheaper.
Maxime Leverbe (Sampdoria) ~£600k
Currently on loan at Cagliari in-game, Leverbe is just 21 and already offers Heading, Marking and Tackling attributes of 14. Despite having mental attributes that require some improvement, a talented young centre-back available for around half a million is great business waiting to happen.
Central Midfielders
Ismael Bennacer (Empoli) ~£5m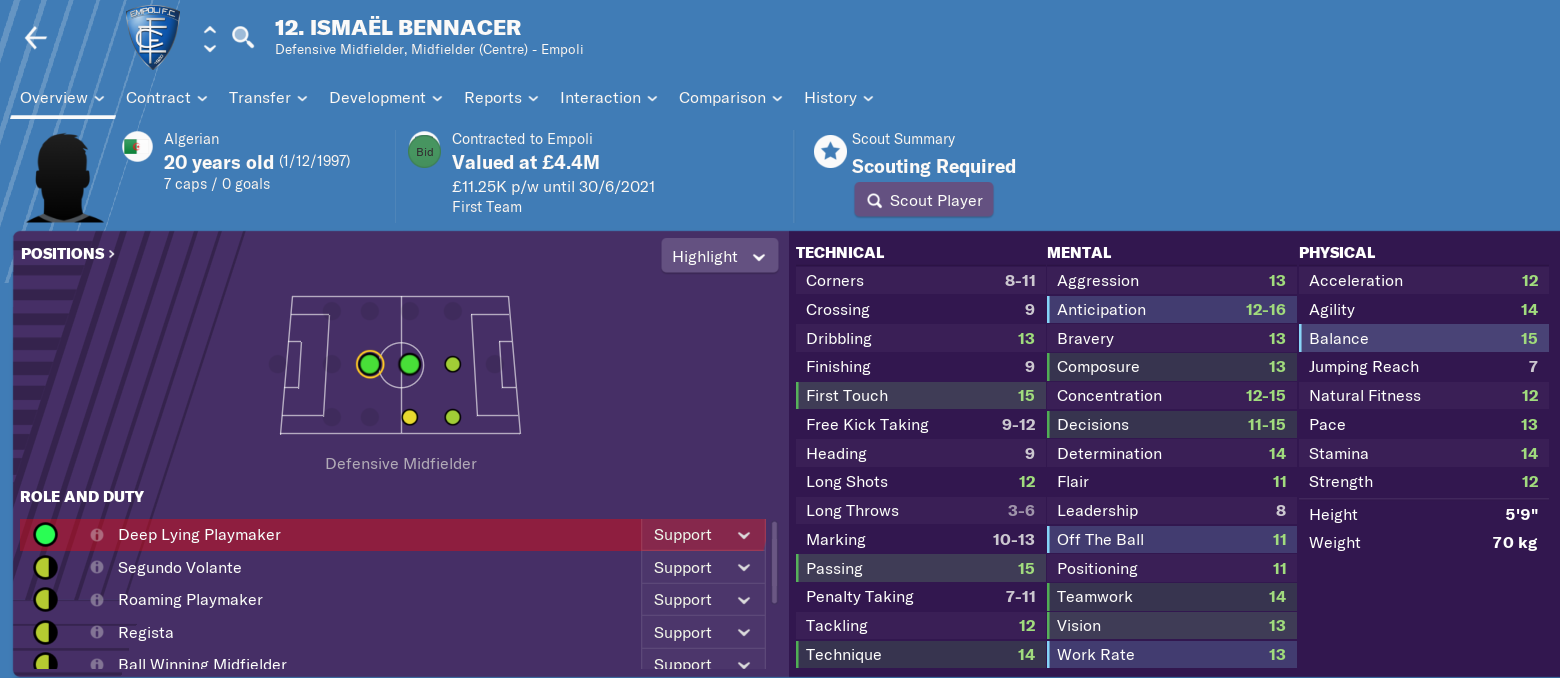 A name that may be familiar to Arsenal fans, Algerian midfielder Ismael Bennacer is a bargain for his current and potential ability. With some great all-round midfield attributes but best suited as a deep lying playmaker, Bennacer is a steal at just £5m and, at just 20, has plenty of time to improve his somewhat mediocre mental attributes.
Antonino Barilla (Parma) ~£3.5m
At 30-years-old, my mid-tier pick for the central midfield position is Parma's Antonino Barilla. Despite his age, he has a lot to offer any squad and, for just £3.5m, he's a complete bargain. Barilla boasts strong technical attributes with Passing (15), Tackling (14) and Dribbling (13), whilst his attributes of Determination (20), Work Rate (14) and Stamina (15) make him an effective box-to-box midfielder.
Mauro Burruchaga (Chievo) ~£700k
The cheapest bargain for the centre of midfield in Serie A is Chievo Verona's 20-year-old midfielder Mauro Burruchaga. With impressive Passing (13), Tackling (15) and Technique (14) attributes, the youngster can offer a lot; yet his mental and physical attributes need work and must be achieved with effective coaching. At just £700k, the Argentine is a bargain and definitely worth investing in.
Wingers
Amin Younes (Napoli) ~£6m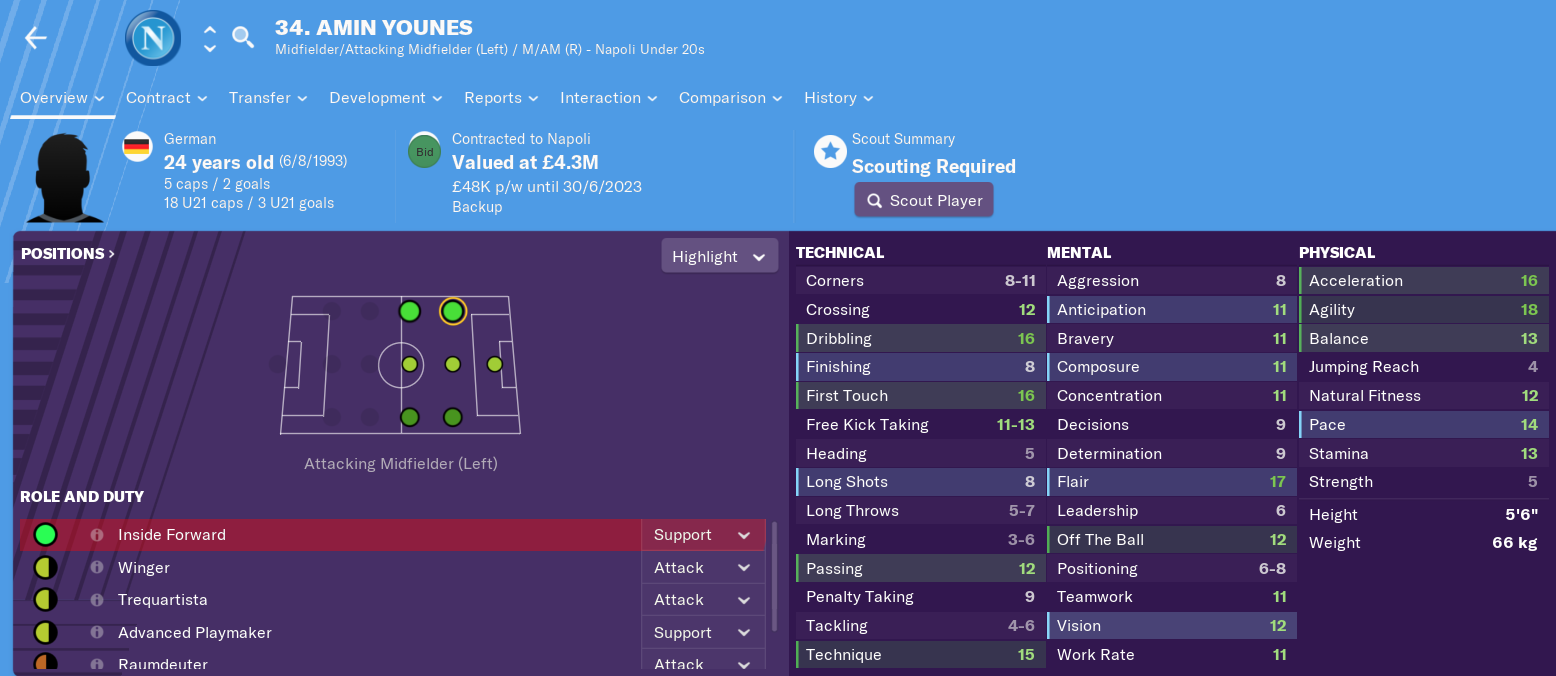 24-year-old winger Amin Younes is an exciting prospect for a number of reasons. The former Ajax man is available for around £6m but it is worth noting that, due to an Achilles injury, you will likely not be able to sign him until the January market. Despite this, he boasts some incredible attributes such as his Dribbling (16), First Touch (16) and Agility (18), as well as his impressive Flair (17) and Technique (15) making him a potentially valuable asset. Able to play on both wings and, to some extent, in a central position, Younes is worth scouting.
Vittorio Parigini (Torino) ~£3.8m
The mid-tier pick for Serie A bargains on the wing is Torino's 22-year-old Vittorio Parigini. Parigini, who can play on either wing, has plenty of potential but already has strong physical attributes with his Acceleration (15), Agility (15), Natural Fitness (16) and Pace (14) giving him a natural advantage over many other similar players. His technical attributes are not the strongest but still with Dribbling (14), Technique (14) and Crossing (12) at competent levels.
Luca Siligardi (Parma) ~£1.9m
Siligardi is 30 but once again another hidden experienced gem at Parma. Available for his value of £1.9m, Siligardi is a great all-round winger with competent technical, mental and physical attributes across the board. For under £2m, he still has a lot to offer and is best utilised as an inside-forward on the right-flank, despite his ability to play on the left too.
Strikers
Mariusz Stepinski (Chievo Verona) ~£6m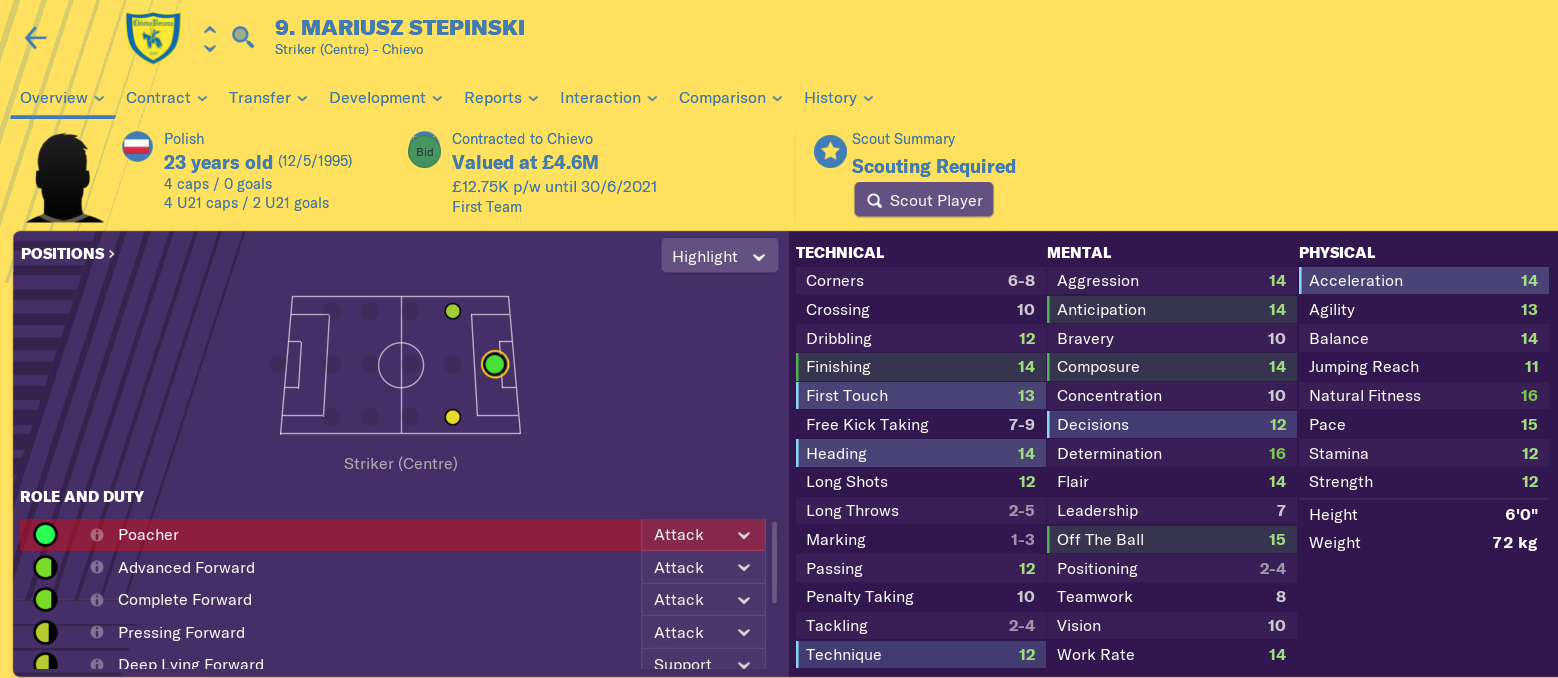 The most expensive signing on this list, you will be hard pushed to sign Chievo's Polish forward Mariusz Stepinski for much less than £6m. The forward boasts a strong set of attributes in all three categories and, at just 23-years-old, there is room for improvement across the board. Still fantastically valued for around the 6 million mark, it is his Off the Ball (15), Finishing (14) and Natural Fitness (16) that make him stand out from many of the other options.
Mattia Destro (Bologna) ~£3.6m
Destro is unique in the sense that he is transfer listed at the start of the game and, therefore, available for less than his £4m valuation. At 27-years-old, Destro still has a lot to offer and is in that balancing point between young and experienced. Strong technical attributes like his Finishing (15), Heading (13) and Technique (13) make him a great forward for a number of different roles.
Daniel Ciofani (Frosinone) ~£1.2m
The budget option for the striker position is Frosinone's 32-year-old target man Daniel Ciofani. Ciofani has some fantastic attributes that make him an ideal target man, with his Jumping Reach (16), Finishing (15) and Heading (16). His age means that he is perhaps not a sustainable choice but he can certainly add depth to a lacklustre front line and for less than £1.5m.