I'm going to start by making a bold claim that Luka Jovic is the best offensive striker in the world right now. There is a lot of buzz around him lately with the likes of Barcelona, Chelsea and Man City linked with his name. This has as much to do with the undeniable scoring ability as the promise of future potential in this 20 year old from Serbia. His wonderkid status in Football Manager 2019 is greatly merited because simply put no other forward has the same combination of key attributes and potential (especially after the Winter Update). At the start of the game, there are a few better strikers with much bigger names but none have his youth or potential. Naturally when looking for a player to perfectly highlight the archetypal Striker, I turned to Luka. His example will allow me to showcase all the attributes needed by a forward to develop into a goal-machine. In general, if you are interested in getting more goals from your special player, this is the guide for you. Also, I will recreate Frankfurt's brilliant 3-5-2 with Luca as its main scorer.
One cannot talk about football without giving credit to the Striker. No matter how much our game has changed over the years, at its core it is still a game about kicking the ball into the net at the other end of the field. You can decide to play with two or three defenders, fullbacks or wingers, or no wide players at all. You choose to be a tactic-tinkering hipster and put registas, trequartistas and liberos all at once (and maybe a Raumdeuter for good measure 🙂 ). Want to move the ball around via 1000 short passes or sit back in a parked bus for 90 minutes waiting for that perfect opening? No matter your tactical approach, you still need to have a player who is going to score most of your goals. Someone with a knack of kicking the ball into the net. Even, strikerless systems, despite the name, need a player with similar striker attributes, albeit in a withdrawn position.
The Anatomy of a Striker:
The attributes outlined in the image above are the ones I believe will help a striker score goals (provided he has adequate support from the team). You might wonder why the Finishing attribute is not up there. I did not include it because I do not consider it key to getting my strikers to perform well. While Luka is very gifted in his finishing, it is not what makes him a great goal-scorer.His balance and off the ball does.
In fact, balance is the offensive equivalent of the more defensive strength. It is like Off the Ball is to Positioning. Thus it is essential for a striker to have great balance (and secondarily agility) as it affects the quality of a shot or pass they can make under pressure. 
As a result, when scouting for a perfect striker, to me finishing is important but not vital. It is simply the attribute which translates to how many shots on target the player will make. So of course with higher finishing he will put more shots on target but this will not necessarily translate into more goals. Jovic's exceptional balance combined with the other attributes outlined above will determine whether he scores. And scores he does!
As you can see Luka is a clinically deadly goalscorer because most of his best attributes (in 15+ range) are his mental attributes, which is rather surprising in someone so young. Also it is arguably where a central forward's most important attributes (those circled in red) lie. The physicals and technicals are important but not as much as they would be for an inside forward for example. When put on the wing he would become more reliant on his technical dribbling skills and pure physicality and speed to get past the opponent.
When positioned centrally, the striker already starts close to a penalty area so dribbling, pace and strength are not as important. Some Acceleration can help, especially when you need a little burst of speed to get to that cross or through pass. Centrally, he faces the opponent's most concentrated defences. At least two obstacles stand in his way, in the form of the centrebacks and the keeper. Then add defensive midfielders into the mix and in such a congested space, striker's Balance and Agility becomes vital.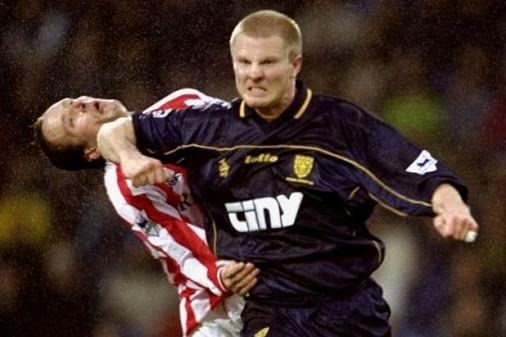 No matter how much pace or strength he has , it will not save your player from running head-on into Virgil Van Dijk's elbow. And while high bravery will allow him to go up against veritable giants like Virgil or Bayern's Niklas Sule, it is through his balance and agility that the forward will be able to sidestep away from danger, leap over that nasty sliding tackle and then turn his body quickly to be set up to receive a pass or shoot on goal. Exceptional balance will make it even harder for the opponent to physically intimidate and dislodge the ball from him. Just watch old footage of Maradona and Messi, both players known for their unreal balance (due to their low centers of gravity), and see how hard it is for defenders to take the ball away from them.
Once the player is past the last defender, they still need to shoot on goal and most keepers will not make this an easy task. Here the importance of good Decisions and Composure is revealed. Without these two attributes, the player simply will not find the right time to shoot the ball, either shooting too early or too late. So even if he is on target (due to high finishing) if he takes too much time, he gives the keeper time to react and knock the ball away. He might decide to shoot too soon from a tight angle with a low chance of success or shoot before getting his strong foot on the ball to give the kick more power. Without the right combination of decisions and composure, a lot can go wrong.
Even before he gets into a good shooting position, other things may go wrong, especially if the striker does not have high enough Off the ball and Anticipation. He might not anticipate the gap in opponent's defences to run into the channel there or predict where the pass will land. Basically he will not be in the right place and time to score. Yet even if he is in the right place at the right time, with low Technique, the player will not have the variety in his repertoire to do anything more than blast the ball straight at the keeper. If his First Touch is also poor, then he will blast the ball high over the net, as he is not able to quickly control the ball and set it up for his next action immediately after receiving it.
Strength and Heading ability are not as important as those mentioned above but nevertheless play a role in helping your striker score. The stronger he is, the more power he can put into his kicks (something that finishing has no effect over). Despite the example above, sometimes blasting it helps. While heading is also another unique attribute which similarly to technique adds another trick into your striker's arsenal. A striker who can only score one way is never as good as one who is versatile at using his head and both feet. Such player can be supplied by variety of crosses (floated ones for his headers and low, whipped ones for his feet). All this translates into more ways to score.
So as you can see many of these attributes come into effect way before the value of finishing can be taken into account. While doing my research I did a little scouting in a 40 000+ player database. While searching for player with similar levels of mental attributes and balance and agility as Jovic, this is the screen that I ended up with. He is by the far the youngest in an exclusive group of nine players. All the players on this list have one thing in common; top composure, anticipation, off the ball, balance and agility (values of 15+). I did not even put finishing into the search. Also, all the others are 25+ year old and world-class stars. Maybe now you can see why I am such a big fan of Luka.
The Magic Trident Tactic:
It would not be a Dynamo Project article without a tactical suggestion at the end. For a general striker role it is a little bit more complicated simply because it is a role that can work in many different formations and styles. Even the specific role itself, can be different depending on the player you have. Some people can get a poacher to score more while for others their pressing forward might be the goal machine. For the sake of time, I decided to focus on one specific formation to give you an example of how well an offensive striker can work when in a system that is well designed to service him. Truthfully, when setting up a prolific scoring system, the formation itself is not as important. As long as you have a striker(s) with the attributes I mentioned, he will be able find the ball and space to score. This combined with good support is all you need.
Luka Jovic's own Eintracht Frankfurt was Bundesliga's undeniable revelation last year in how well they played all season long and won the domestic cup with Nico Kovac at the helm. While for the 2018-19 season Kovac has moved on, the team's attacking intent has not diminished. If anything Adi Hutter's own take on fluid counter-attacking style has them firing on all cylinders (with the team in 5th spot right now), particularly the deadly trident of Jovic, Haller and Rebic.
Initially it was this video by the great Tifo that actually inspired me to try to recreate Frankfurt's tactic in football manager. He breaks it down so succinctly that I do not really need to add much. So please watch the 5 minute clip above which in typical Tifo style manages to explain something very complex in the most simple logical manner. In short,  I intend this to be a direct counter-attacking tactic where the intent is to move the ball via quick vertical transitions to the attacking trio (The Trident) do all the damage.
For this purpose I have central ball-playing defender (ideally with "brings the ball out of defence" and "likes to play long passes" PPMs) and one central midfielder. The latter is basically a playmaker with all the appropriate technical and mental attributes of one (first touch, passing, technique, anticipation, composure, decisions, teamwork and vision) and with added player instructions for riskier, more direct passes. Alongside you will need a more physical supporting midfielder who is comfortable in both attack and defence (essentially your ideal box-to-box or carrilero player). I want this player to win the ball back, make short passes to his more creative partner or the closest wingback and to make late runs into the penalty area. All in all he is a there to make life difficult for the opposition by putting an extra body in the final third to detract from the real threat of our "Magic Triangle" of Advanced Forward, Deeplying Forward and Shadow Striker.
As Tifo's video explains Frankfurt's tactic is all about quick transitions and getting the ball up to the three attackers. This can either be accomplished through long passes from the more creative central midfielder or the ball-playing defender in defensive trio. On the wings we have hard working, fast wingbacks who act as an important link between the midfield and attack. They can track back and defend as well as providing whipped crosses into the congested penalty area. Once the ball is in there, the strikers can take advantage of the resulting chaos. Not surprisingly, our wingbacks need to be among the fittest players on the team because they start so advanced that they practically act as wide midfielders. At the same time they will be doing most of the running for the team, covering all the vertical space between the two penalty areas.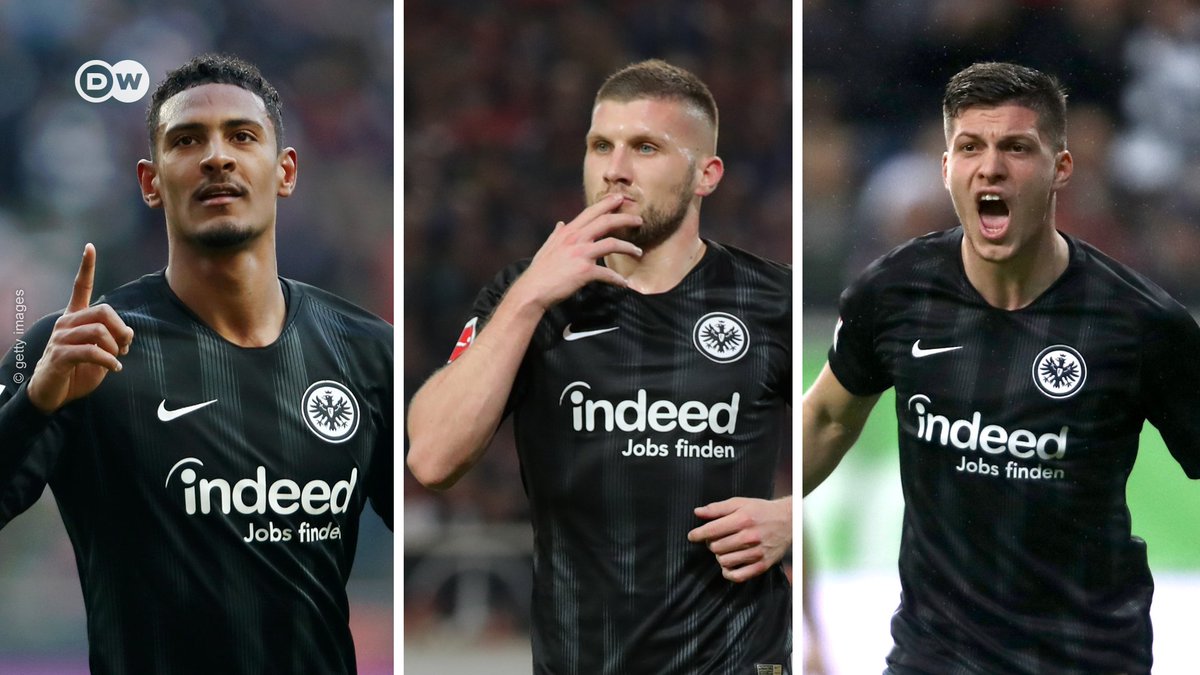 Finally, the three players who make up the Magic Trident at the top of the formation, play a huge role in scoring the majority of the goals so naturally the tactic is geared towards supplying them. So far this season the trio have scored 35 goals together! The best for any attacking trio in the Bundesliga. I chose the roles carefully to represent how I think they play in real life. Jovic is the advanced forward, acting as the spearhead for the tactic. He is the most advanced of the three but is not averse to sometimes dropping deep or drifting to the wing to link up with the other players. His striker partner Haller, is natural at playing the deeplying forward role because of his towering, physical strength and the ability to hold up the ball. I initially had him playing as a Targetman but then decided that I needed him to act as a more creative outlet, roaming around and driving to the right wing (via stay wider instruction) to pick up the ball from the wingback or to launch a quick cross to Jovic or Rebic.
Finally Ante Rebic is the stereotypical hard working and aggressive shadow striker. He has the hardest job of dribbling between the two strikers to either pass to one of them or to attempt a shot on goal. He also needs to roam around into empty half-spaces and vertical channels. He is the wildcard as he often ends up unmarked because of arriving late in the penalty area and having the defenders drawn away by Jovic and Haller.
So this is my Frankfurt Magic Trident Tactic in the nutshell. As you can see I used a few rather aggressive attacking roles. At first glance this might seem too gung-ho and reckless but you have to keep in mind that I am playing on a lower balanced mentality and with a solid three men defence. This should allow me give more freedom to the players who I expect to be involved in most of our goal-scoring. Also, I needed to make sure that the wingbacks always stay high and wide to open up more space for my attackers to move into the channels between the opponent's fullbacks and defenders. To this effect I made sure that all 3 forwards had "move into channels" instruction selected.
This tactic should hopefully get the best results out of your own offensive striker, much like Frankfurt's 3-5-2 is able to do in real life, with Jovic topping goal-scoring charts in Bundesliga. Hopefully you will enjoy reading and trying this out for yourselves as much as did testing and writing this article.
Follow Dictate The Game on Facebook and Twitter!
---
And here are other articles that you may be interested in: