For a while now, I was planning to write about the new tactic that I have been working on in order to get the best out of my amazing regen, the Croatian diamond in my last golden generation intake (as seen in my previous article). As I started to write I realized that before the full tactics revelation, I need set a bit of context for the specialized role I intend to build the tactic around; the Regista. There are many misconceptions out there about this role. In Football Manager 2019 the challenge in using a regista is that unlike other roles, it really requires you to build the tactic around him. You need to start with this very specialized role and then choose the other roles around very carefully in order to best complement him. So without further ado, who exactly is the Regista?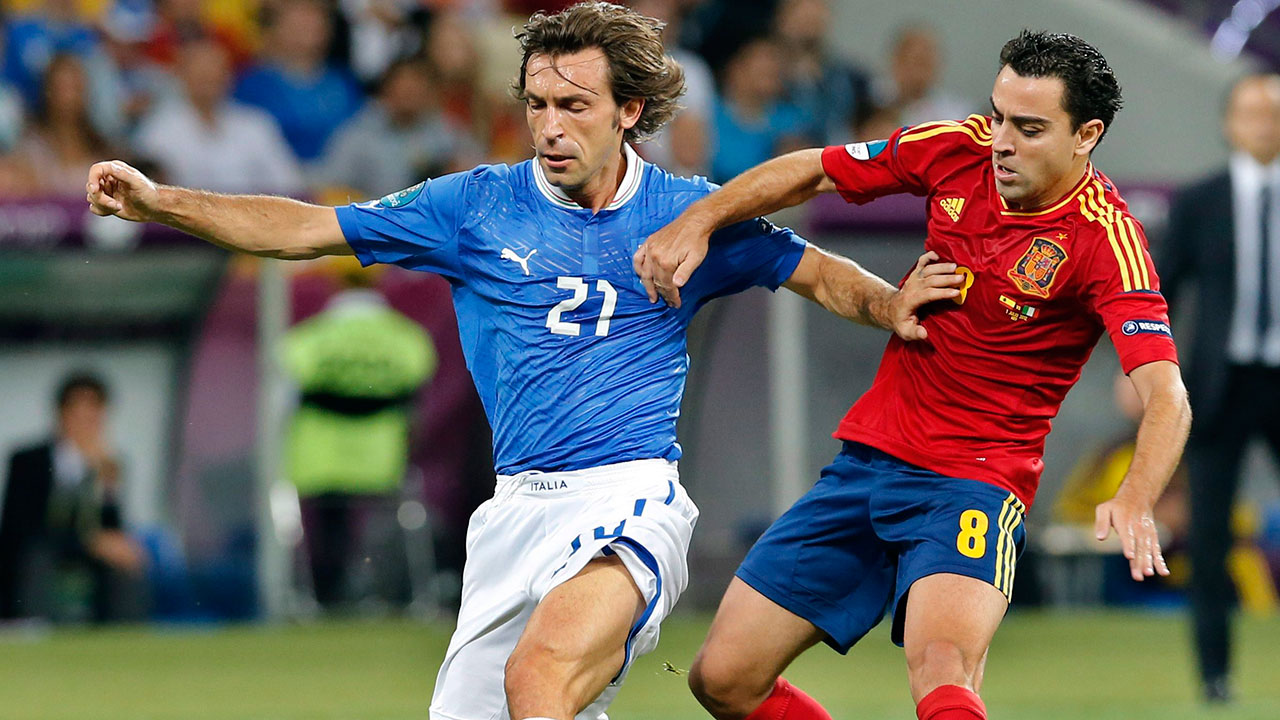 Before I can answer that question, we need to discuss the birthplace of the best player to play in this role. I've been a fan of Serie A and Italian football since I was a boy. My boyhood idol was Andriy Shevchenko. I watched him play and score goals against top European sides when he was at Dynamo Kyiv and then when he was sold to AC Milan for a then-record transfer fee of $25 million, I started following his new club AC Milan.
I could not get enough of the Rossoneri, watching their games on satellite at a friend's house at every opportunity I could get, and reading every book about Italian football I could find in the local library. I even had my mom saw a homemade scudetto patch onto my football jersey. While watching all those Milan games, I started noticing that besides Sheva creating magic in the final third, there was another kind of magician on the field. I discovered Andrea Pirlo, and my love affair with the role of regista. It is a curiously Italian term, that comes from the word regisseur, meaning one who conducts the Opera, another Italian invention. There have been a few such masterful conductors in the game in the recent decades, namely Andrea Pirlo, Barcelona's Xavi, and currently Cesc Fabregas. The following video will give you a good overview of how this role operates. It is probably one of the best guides to how this playmaking specialist operates in the real world and in the game. Very analytical and easy to follow.
Some Misconceptions: 
Think of the regista not as the defensive player even though he starts deep in your defensive third, but as the deepest offensive player. He is essentially a mirror role to the trequartista in Advanced Midfield position. In fact some wonderful artistic football can be created between these two roles if you have the right players. As is evident in the first video below. My regista Jorginho performs a cheeky crossfield pass to my leftback who then immediately passes the ball upfield to the trequartista. He in turn dribbles into a dangerous area before performing another crossfield pass in the opposite direction to our central striker Belotti. Belotti immediately lays it off to raumdeuter Pedro who then proceeds to score. Vertical Tiki Taka at its finest and even Sarri would be proud.
The right combination of attributes, player traits and positioning of my two playmakers allows this sort of move to repeat again and again. Even if it does not always result in a goal, the beautiful passing plays that result are a joy to watch. For what is the ideal Tiki Taka if not the quick and precise series of passes that inexorably and efficiently move the ball up the field to its ultimate goal. No pointless sideways and backwards passes here.  I think part of it is having two very dynamic playmakers on the field at the same time with the full creative license between them. Often, it is recommended not to use multiple playmakers in a tactic for fear of the play being slowed down. The misconception being that as soon as there is one or more playmakers on the field, the players will start playing like a bunch of drowsy hippos. That is far from reality. In contrast I would say that using two playmakers is the ideal set up in a Vertical Tiki Taka formation such as Sarri's Napoli and Chelsea. The two playmakers will act as the two bookends to your attacks and will ensure that there is always one creative outlet even if the other is marked down . With the right combination of attacking runners and holding players around your advanced and deep playmaker, the ball will move up fast and decisively.
While trequartista will roam around the field looking for the ball and gaps in opponents defence, his Regista counterpart likes to move forward close to opponent's box from where he can launch pin point passes for that one decisive goal. He will often bide his time, utilizing his excellent anticipation and vision, only passing once he is sure that the the pass will find a teammate in the perfect scoring position. At the same time, trequartista looks for openings in the final third, either moving himself onto the regista's pass or making another teammate open by taking the defenders away with him. Just watch how cleverly Fabregas unlocks Man City's defence in the dying minutes of our Community Shield match. We went on to win that match 4-3, after coming back from 2 goal deficit and forcing the penalties, due to the 90 minute Willian goal you see here.
I think the greatest strength of the regista is actually his withdrawn position on the field. It is what allows him to get the best tactical view and therefore anticipate where the goal needs to move to unlock the opponent's defence. It also gives him the flexibility of having many options in how he can get the ball up the field. The best registas are very comfortable in dictating the tempo of the play. The strongest analogy is of Pirlo operating like a general planning the attack from the back. He would often run from deep positions to almost within final third. Somewhat like the quarterback in American football, who tries to get as close to his passing targets as possible before launching that one killer ball. While at other times Pirlo would stay deep and instead masterfully switch the ball to the other side of the field to be picked up by the player there. I've seen Fabregas pull of the same moves as well, probably due to his "tries long range passes" trait. If such a pass reaches my trequartista Hazard, it opens up a whole new avenue of attack that as often as not will catch the opponents with their pants down as in the Sheffield Utd clip above.
Searching for Andrea Pirlo
When looking for the perfect combination of attributes for this extremely specialized role, this is generally what I'm looking for.
Less importantly good balance and defensive attributes, such as tackling and positioning, will be an additional bonus as they will allow your regista to play as an extra screener in defence as well as keep the ball better. They are not necessary for him to excel and generally I predict that a good trequartista will be able to play as regista as well. Generally a trequartista on my team will need the same attributes as above, with the addition of better physicals (acceleration and agility) and offensive attributes (off the ball, finishing, composure). So naturally later in their careers, as they get slower, I forsee them transitioning to the role of regista.
The key attributes by themselves are representative of all great playmakers, but in the game what separates most playmakers from registas is the presence of specific PPMs (Player Preferred Moves). Traits like "tries killer balls often", "tries long passes", "dictates tempo", and "likes to switch ball to the other flank".
Chelsea are probably the ideal team to try any regista tactical experiments, seeing how at the start of 2018 season they have three players that have the potential to perfectly fit the role; Fabregas, Jorginho and Kovacic. All the attributes that I list above are present in the three. And that definately makes them into great playmakers. While Jorginho and Kovacic need some extensive training in the specific PPMs to be the ideal registas, Fabregas is already one of the best in the game and has all but one of the PPMs needed.
In my 2nd season at Dynamo Kyiv I sadly could not tempt him away from Chelsea. Sadly he was not conviced on the modest pay drop and the promise of living in the beautiful Ukraine, so I had to settle on some more humble choices; Pablo Hernandez from Leeds and Granada's Fran Rico:
They may never be rotation (or even backup) options on my team, and they do not need to. I just need them to be ideal tutors for my baby regista, Anton Vidovic. As you can see he still has some ways to go but the primary attributes for the role are already in place and he still has a ton of potential to grow into it. As an added bonus, he an exceptionally versatile player. I'm even considering to develop another tactic in the future that takes advantage of using creative, playmaking inverted wingbacks, as I suspect he could excel in that role as well. But more on that at a different time.
Most importantly, the combination of good personalities (Rico is model citizen) and the player traits between these two aging Spaniards is close to perfect (dictates temp, tries long range passes, tries killer balls, and curls ball). Once the transfers go through I will immediately start a mentoring group consisting of those two plus Josip Pivaric. The Croation veteran leftback should help Vidovic settle in the team while he also has the "gets forward" trait, which should prove invaluable to a regista. Over the next season I will monitor how many of his mentors' prefered move traits Vidovic will retain to hopefully mold him into the best regista he could possibly be.
Putting the puzzle pieces together
So by now you should have a good idea of how the two key players,the creative double pivot at the core of my tactic, will ideally fit together. But for the formation to work, we need other specialist roles to move around the two playmakers in order to create space. The control of space for the two virtuoso playmakers is especially vital. The roles that you use next to them will dictate exactly how this space is used. The complementary midfield roles act as the creators of space, needed by the regista to operate in and perform his magic, and also as the targets of passes and goalscorers.
My challenge to myself while developing this tactic has been to try to make it work with not just two exotic roles, but a grand total of five exotic specialists! I already mentioned my fascination with the exotic roles in football manager, so I was only excited when I came up with a way to fit a regista, trequartista, mezzala, carrilero and raumdeuter all into one tactic. In my next article I will unveil this tactic which I believe can utilize all these roles to their full potential.
Feel free to drop comments below on your own experiences with using the regista or trequartista.
---
Let us know what your thoughts are:
---
Other articles you may enjoy:
Serie B continues: Can US Triestina avoid the drop?
How to Build Your MIdfield in FM19: Football Manager Guide
Dynamo Project FM19 – The Golden Generation | Youth Development
Highlighting the Wide Target Man and the Flo Pass Tactic in FM19
The Football Factory: Part Five – It Begins