Introduction
Hi my name is CrusaderTsar and I've been playing Football Manager since 2014 and been a long-time follower of this forum. I finally decided to dip my feet in and write a series following my first long-term save in FM 2019. I plan to start a somewhat open discussion of Dynamo Kiev club and my tactics. I intend to post regular updates on my squad and results as well as welcome feedback on how to improve my tactics and training.
I decided to start this save while still in beta for two main reasons. The tactic I intend to try out is not one relying on breaking the current game engine to overachieve but rather on tried and true concepts that would hopefully be applicable to any version of the game. So no 3 strikers nor strikerless tactics. Secondly, I intend to do it with a club that is not from the top 5 leagues. I noticed in the last couple of FMs that the attribute changes between beta and the first patch could be drastic in players in Premiership, Bundesliga or the other "big" leagues.  For obvious reason those leagues are more thoroughly scouted. For that reason I reserve those kinds of big saves for later in the year, once I tested out my tactic with a less known side. This year I chose Dynamo Kiev.
What attracted me to this club can also be viewed as the 3 Pillars of my 5 Year Plan: 1) Youth Development,
2) Domestic and Continental Success
3) Implementing Hard Pressing Tactical System inspired by Valeriy Lobanovsky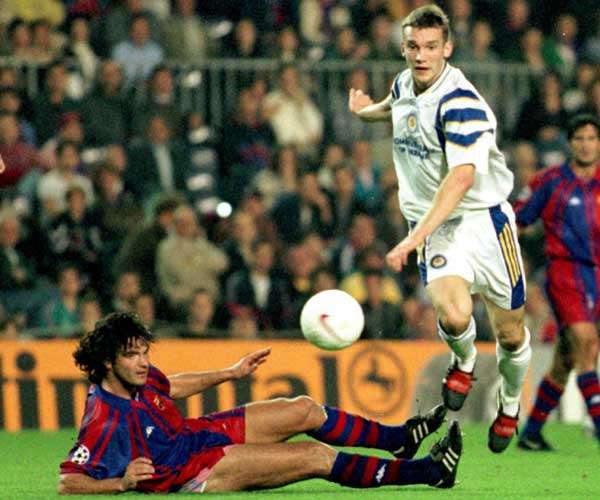 I hail from Ukraine myself so naturally I always followed clubs from this nation. My all-time favourite player growing up was Andriy Shevchenko. One of my earliest footballing memories was watching Dynamo Kiev's systematic dismantling of Barcelona's defence in Nov 1998 Champion's league. Sheva scored 3 goals in that match. Dynamo went on to beat Barcelona 7 to 0 in aggregate. He was part of an elite class, all nurtured at same time by the club. Players such as Oleh Luzhny (later won the Premier League with Arsenal), Serhiy Rebrov (totalling 75 appearances for Ukraine) are just a few examples of the "Dynamo effect" – taking local youngsters and molding them into superstars through hard work and intense fitness conditioning. So to reflect this objective will be to develop a class of homegrown players over the first 5 intakes and then to integrate them into my first team over the following 5 seasons. So by 2028-2029 to have only youth academy products in the 22 player squad. On my way there I'm hoping to also have a positive effect on Ukraine's National Team and become the foremost farm team for the National Team squads.
Above are Lobanovsky's "sons" , the team that shocked Europe in 1997. Shevchenko – top row, right. Luzhny – standing next to Sheva. Rebrov – second last from right in bottom row.
Success in 1998 Champion's League marked the revival of the club's fortunes in late 90s when the manager Valeriy Lobanovsky took over for the second time. In total, he spent 3 decades with the club and its best years were undeniably with him.  Becoming the threat in Champions League and winning numerous domestic trophies were all part of this success. Lobanovsky relied on his signature hard pressing, direct style of play (what some might think of as Gegenpressing today). After dominating the Ukrainian League from late 90s to early 2000s, Dynamo has had a bit of a decline due to the meteoric rise of its main rival Shakhtar Donetsk in late 2000s. In the last decade, Shakhtar has won seven domestic titles in comparison to Dynamo's three. This is something that I intend to change, aiming for getting at least four titles in five seasons. Also Dynamo has not won a major continental trophy since 1985 (UEFA Cup Winner's Cup) which I intend to change by winning at least one continental trophy during my first five seasons with the club
My final objective is developing a Lobanovsky style Pressing Tactic that is built around hard work, relentless physicality, stamina and disciplined selfless teamwork. By hitting my domestic and continental goals on time, I will know whether this tactical goal was achieved.  As you might guess the mold of my ideal player will also be defined by this system (but more on this in future posts)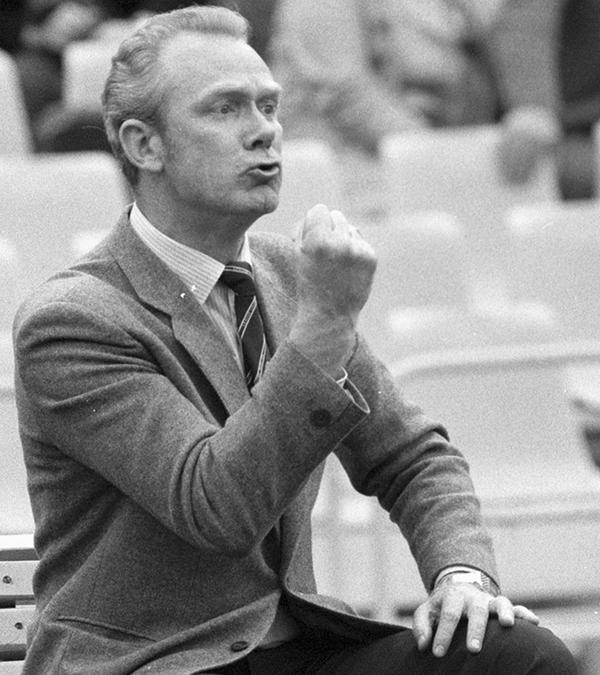 Defining the System: Lobanovsky's "Totalitarian" Football
Today most football fans associate Total Football with the Dutch super teams of 1970s or the modern Barcelona and Bayern Munich systems. Unfortunately, the name of a Ukrainian manager Valeriy Lobanovsky does not immediately spring to mind even though the term "pressing" originated in his book "Methodological Basis of the Development of Training Models". For obvious reasons, soviet era football is not exactly a glamorous subject. Also to understand Lobanovsky's system one must also understand the mentality of his time, which is not always easy for non-Eastern Europeans. Lobanovsky was the child of postwar Soviet Ukraine, a regime which prized above all else two things, collective accomplishment and scientific progress that arose from hard work. Individuals were not praised on their merits alone but how they worked as part of a well-oiled machine.
To Lobanovsky, a football team was such a machine, made up of 22 cogs. The team had to attack together, defend together, and win together. Every player was supposed to be comfortable playing both attack and defence. Describing it in such a way, one might not see any difference from the Dutch, German or Spanish visions of Total Football. What made Lobanovsky's "Total" Football unique is how for him it was not about controlling the ball through ball possession but about controlling the space through stretching and overloading the field. The players had to make the field larger when in possession and smaller when defending. His teams were never possession-hogs. If anything he relied more on rapid vertical counterattacks rather than on a 1000 beautiful short passes. To give an analogy that's instantly understood by any modern follower of the beautiful game, Lobanovsky's Soviet National Team and Dynamo Kiev were like Leicester of their time. More counterpressing than Tiki-Taka.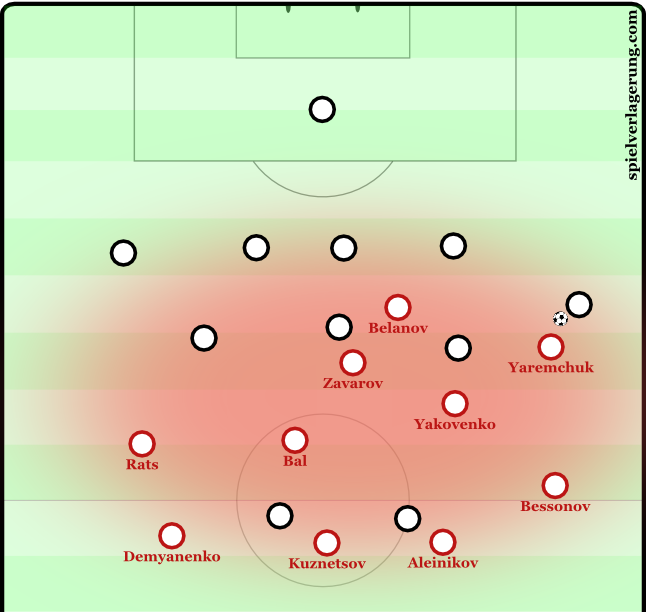 Like any successful general who realizes that you win by controlling the field of battle first and by outnumbering the enemy second, Lobanovsky wanted his players to exploit the space to their advantage. While attacking they had to stretch the field via tireless work of fullbacks such as Luzhny and wingers like Alex Zavarov. When not in possession, the same players had to work hard to collapse back into tight 2 lines of 4 compressed around the net to give as little space for the opponents as possible.  For once again, one cannot create any kind of attacking move if there is no space available for players to run into and Lobanovsky's players were already occupying that space. Yet his tactics were far from simply parking the bus and relying on anti-football. Dynamo Kiev went 3:0 against Atlético Madrid and famously trounced Barcelona in 1997 with aggregate of 7 goals while not letting a single one in.
Naturally he favoured the 4-4-2 shape, allowing for rapid transition from defence to attack and vise versa. The classic 4-4-2 can collapse easily into a rigid set of 2 banks of 4 which can be near impenetrable and ruthless in regaining the ball and then rapidly moving it up to the strikers. The key here was having two quick and very creative playmaking strikers who could both create and finish their own chances. What also helped is having creative defenders who could ping long passes, bypassing the midfield, to the strikers.  One might argue that his teams were so successful because of the good fortune of some extraordinary striker duos like Igor Belanov and Oleh Protasov or Rebrov and Shevchenko. But would they have been as productive in another system?
What we do know is that Lobanosky was almost obsessive when it came to developing young talent and getting the most potential out of every player that passed through the youth academy. He was not one to buy a proven goalscorer when there was already a young kid in his reserve squad that needed more game time.
Stemming from his engineering academic background, Lobanovsky was a strict believer in analyzing data in a highly empirical way to improve his tactics and get the best out the players. By hiring a professor of Bioenergetics Anatoly Zelentsovin and statistician Mykhaylo Oshemko as his assistants, Lobanovsky took the idea of sports data gathering and analysis to a whole new level. Something that is taken for granted in modern football, but was revolutionary in late 1960s. With Oshemkov's data in one hand and Zelentsov's understanding of human physical potential in the other, he established lists of demands for each individual position on the field. Numbers and lengths of passes, completion rates, headers, numbers of shots, distances covered, possession and recycling were all optimized, quantified and turned into easily measured numerical targets.
Like no one before, both on playing field and on the training ground, Lobanovsky tried to capture the elusive firefly of football as an art-form and distill it into a pure science. After each game, Oshemkov's data was posted in the locker room for everyone to see each player's performance levels. There was nowhere for under-performers to hide, and no room for selfish interest and instinct. Lobanovsky was not only one of greatest Ukrainian managers but probably the ideal Football Manager gamer long time before the advent of Championship Manager series.
But what if he had a son, in a spiritual sense that is, to take up the managerial mantle?
Next: Part 2, Introducing the squad
---
---
Other articles you may enjoy: