We're just 50 days out from the 2018 FIFA World Cup! The closer we get, the more exciting it becomes. As always, England fans continue to believe!
The chances of England going all the way are slim to non-existent, but it wont stop the barmy army getting behind the boys!
We've simulated the FIFA World Cup on Football Manager 2018 to see if England get anywhere close to going all the way.
How England went…
England finished top of Group G, beating Panama 3-0 and Tunisia 2-1 before rounding off an excellent start with a 1-0 win over Belgium.
That was the end of Englands run though after they suffered a devastating 1-0 loss to Poland in the Round of 16 after a last-gasp 92nd minute Arkadiusz Milik goal.
Harry Kane finished as England's top scorer with four goals.
So who won the 2018 World Cup?
Denmark. Yes… Denmark! The 1992 European Championship winners scraped out of Group C finishing 2nd behind France. They managed a 2-0 win over Australia, a 3-2 win over Peru, before stumbling at the last hurdle in a 1-0 loss to France.
In the Round of 16, Martin Braithwaite scored a 83rd minute goal to give them a 1-0 win over Croatia. This put them through to the Quarter Final where they are drawn against Portugal. A Nicolai Jorgensen brace and a late Martin Braithwaite goal gave them a 3-2 win in extra time sending Cristiano Ronaldo and his men home.
In the semi-final they we're drawn against England's superior, Poland. But once again, Denmark showed their class and pulled off a 3-2 win thanks to a goal to Christian Eriksen and a brace from Nicolai Jorgensen.
So who did Denmark play in the final? Belgium!
And what a game it was! A 4-2 win for Denmark thanks to goals from Simon Kjaer, Kasper Dolberg and another brace from Nicolai Jorgensen!
Well done Denmark!
Golden Boot Winner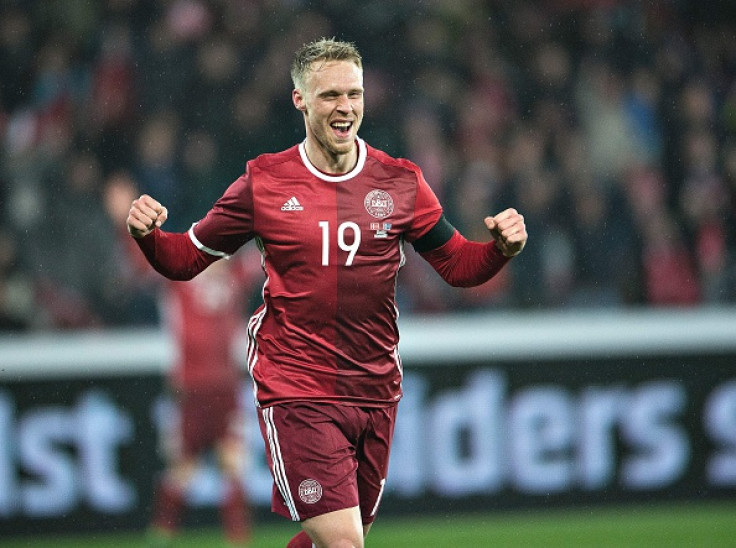 With 7 goals in 7 matches, Nicolai Jorgensen of Denmark was the winner of the prestigious golden boot award, closely followed by Robert Lewandowski and Eden Hazard both with 5

Golden Ball Winner
Eden Hazard of Belgium was the competitions best performer, finishing with an average rating of 7.66. Unfortunately it wasn't enough for Belgium to take the World Cup though as previously stated, they lost in the final to Denmark.
What do you guys think? Do England stand a chance of winning the 2018 World Cup? Let us know by voting on our poll at https://strawpoll.com/z8bp7xs3
---
We hope you enjoyed this Football Manager simulation. Here are some other articles which may interest you :
---
Make sure you follow us on our social media accounts, this is the best way to keep up to date with all things Dictate The Game.